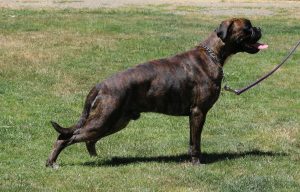 Forfax Regata Fedder Edda ( Baxter) Slovakian Import
Welcome to our Boxer page
We purchased our first Boxer in 2014 and fell in love with these little clowns.  They are fabulous, funny, smart and very entertaining.  Our Freyja (Fifi) has been mothering our German Shepherd puppies from the time that they were big enough to come out and play.  After 2 years of borrowing the GSD's puppies it was time for her to have some of her own.  As always, Fifi did not disappoint us.  On April 20, 2017 she delivered 9 healthy puppies.
Puppy Purchases
A non-refundable deposit will hold your puppy of choice.  All of our puppies  go to their new homes having had their first shots and worming, vet checked 2 times, dew claws and tails removed, shot record, and a puppy care package to get you started.  Most puppies are  sold with limited AKC registration @ $1200 each.  A limited AKC registration allows the puppy to be shown in all AKC events and to earn points etc.  Any progeny resulting from breeding would not be register-able through AKC.  Please let us know if you have any further questions. We can  be reached most any time with out to much delay @  tnjlicos@gmail.com  or 541-761-5474
Happy Puppy Hunting
                                                                    UPDATE!
We should be breeding next week and will have Boxer babies in early March if everything goes well.  We are using our new full European Imported Brindle as sire for this litter.  We are very excited to see what we get from our Fawn Mommy and Reverse Brindle Daddy.  Both of our adult  Boxers have been  DNA'd  clear of AVRC, Brucellosis  and will not be DM affected.  Message us  to let us know if you would like to be on our waiting list for this litter.  Fifi will be ultra-sounded at 50 days to see how many we will have.